11-20-02
Chuckie is a Bad Boy!
Chuck is so fast now that I can barely catch him on my own body. He does not like to go back in his cage and will resist as much as possible. He runs to my lower back and when I reach there, he runs up my spine between my shoulder blades. When I do get him, he wiggles out of my hands and runs up or down my arm and does a rapid shirt dive. When he's out of his cage, he hides when I want to put him back.
Last night, he learned that he can get behind his cage on the blinds and I can't reach him. Usually, he runs around the room and explores different areas. Not last night! He just hung on theblinds motionless and scampered behind the cage when I approached. He wouldn't come when I called and escaped my grasp several times. When I finally got hold of him with both hands and puthim in the cage, he just glared at me ... after a little cussing.
11-26-02
Chuck now has discovered "pants diving" and doesn't stop at the shirt. He keeps on going and runs up and down the legs of my jeans. It's a very strange feeling when he races across my butt. His nails are tiny, but able to grip human skin like he had glue on his feet. Right now, he's resting in a fold of material under my knee. That's OK ... it's when he "explores" that it gets exciting.
11-29-02
I have a large 5.8' X 6' window in my bedroom which has a pleated honeycomb shade. Chuck hasdiscovered he can jump to it from where I sit at the computer. He is now using it as a race track withoccasional breaks to jump on my head. He can also reach a Yuan Yin statue that I have on a nearby night stand. The statue has wooden Tibetan prayer beads around the neck and I hear the metal"ping" when Chuck jumps on her. I don't think the prayer beads are long for this world :-( Too bad, Igot them on a trip to see the Dalai Lama when he was in Indiana a few years ago. The wooden striker for a small brass "singing bowl" already had little teeth marks in it. I guess I'd better keep an eye on the wooden frame that holds a note from Mother Teresa ;-)
11-29-02
Chuckie Does Jail Time
After reading on one of the forums that behavior modification in the form of "time outs" works well ingetting FS to behave, I hauled a "jail" into my room and set it up ... complete with a sign, "CLAY CO.JAIL." This annex was used when Chuck refused to cooperate and wouldn't stop fussing (cussing?) at me. He did not like it! The jail is a small 11" X 7 1/2" X 5" cage with a slam down front door and no toys. He got a 5 minute sentence the first conviction and has been doing pretty well since being paroled.
I'll make changes to this site on a regular basis, so you should check back often.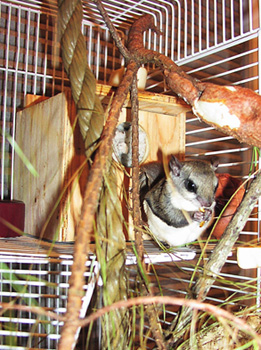 Chuckie in his cage