LOX - The Red-Eared Slider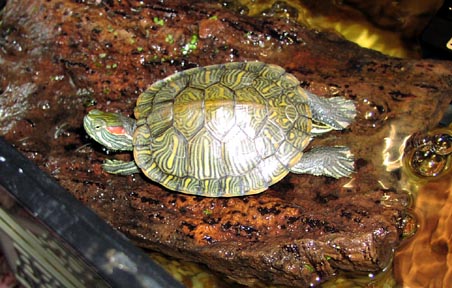 BASKING
Lox is a red-eared slider who has grown to a large size. Originally about the size of a donut hole, he has outgrown two tanks and continues to add bulk and inches. He knows his name and will respond when called. Lox had a very intense but tragic love affair with an algae eater fish. The fish, named AJ, died unexpectantly and left Lox alone. Now, three gold fish keep him company, as they dart around him in the big tank.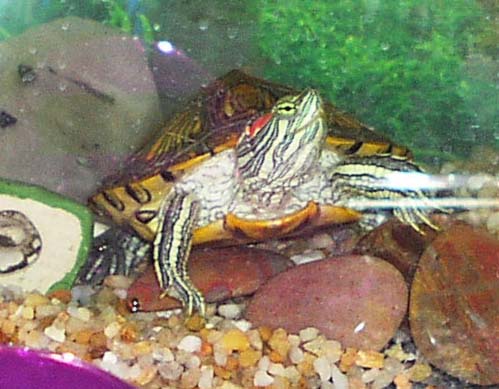 THE NIGHT OWLS
JETT, a Bibron Gecko and COBALT, a skink
JETT is a Bibron gecko who has a shy nature. He lives in a terrarium with a changeable population of skinks, anoles and Southern Tree Frogs. The skink shown here is a female named COBALT, for her deep blue skin coloring. Both Cobalt and Jett are night owls. However, the skink will come out from under during the day to bask in the sunshine with her partner, Red Man.
PYGMY MOUSE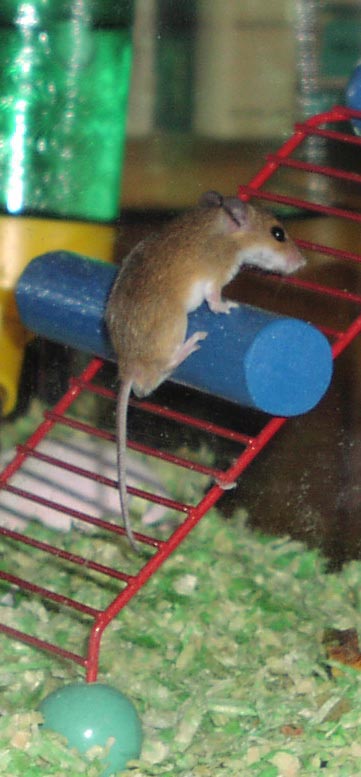 EVENING EXERCISE ROUTINE
IN THE TUBE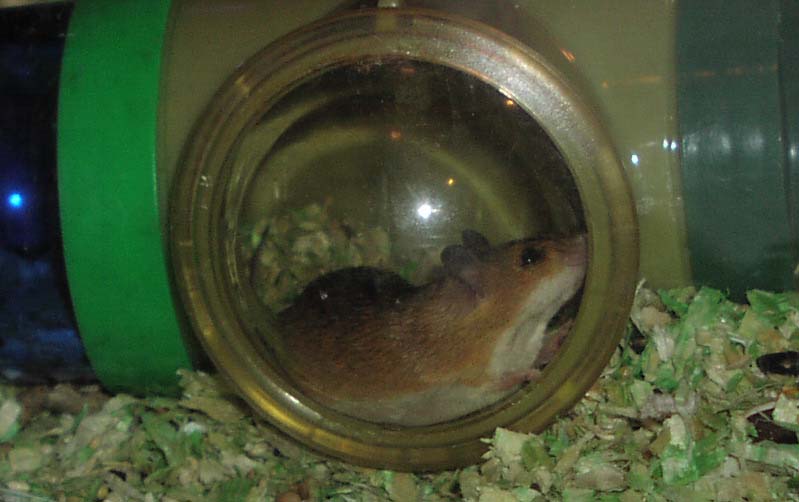 A Favorite Haunt
The African Pygmy Mouse is "crepuscular," which means it is most active before dawn and dusk and late at night. There are two mice, both are sedate creatures who burrow beneath the surface of their home and eat a combination of seeds and bits of fresh fruit and vegies.

BIG BUDDHA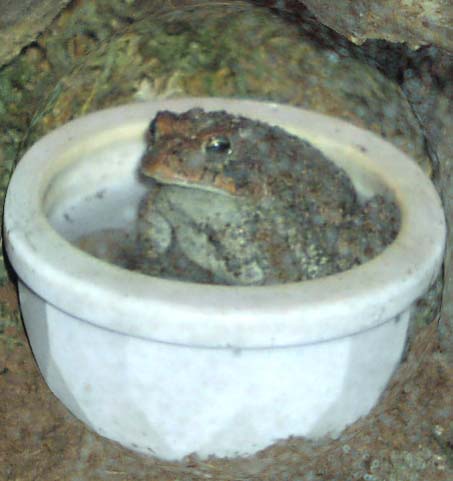 SOAKING - a morning ritual
This is Big Buddha #1. I released him months ago. After a few weeks of freedom, he appeared at my back door, looking for a cricket hand-out. Big Buddha returned a second time and was again treated to a cricket. I have not seen him for some time, and assume he has found a pond in the Great Outdoors.